Love Me - The Documentary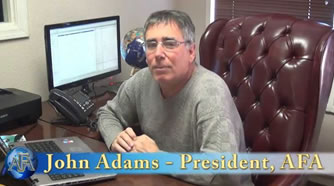 My name is John Adams, President of A Foreign Affair. I would like to share my thoughts and comments on Love Me the Documentary by Jonathon Narducci.
First let me say that it is and always has been the policy of A Foreign Affair to open ourselves to the media - to be as transparent as possible. There are very few companies who would allow the type of total, unfettered, access we granted to Jonathan or other entities such as Nightline, Oprah Winfrey, (Our America with Lisa Ling) National Geographic (Bachelors Abroad) WE TV (Secret Lives of Women) to name just a few. We have also worked with numerous academic researchers, mostly conducting research to support their thesis for their Doctorates, which have resulted in some very impressive work, such as the Dissertation by Lisa Simmons for the University of Denver, "Marriage, Migration, and Markets: International Matchmaking and International Feminism".
Although some of the media and documentaries spanned several months or even years (Our America did a follow up almost a year later showing the wedding of one of the couples) Love Me the Documentary spanned three years! Jonathan had agreed to only film those that agreed to be filmed and was given total access to the men and women attending the tours and the Socials. We did not control nor did we want to control who or what was filmed, he was basically a fly on the wall.
There are a few things to keep in mind when watching the documentary. First, Jonathan chose to follow a small group of men, I believe 5 men from our service and one individual from another service. In the course of the three years of filming and editing we assisted thousands of other men and women in their search for that special someone and successfully conducted numerous tours to not only the Ukraine but also Latin America and Asia, with many successful couples, engagements and marriages. Love Me the Documentary focuses on a very small group of men, some who were successful during that three year period in finding their special someone and some who were not. Every client we work with, both men and women, are real individuals with their own hopes, dreams and aspirations. If we were to follow each client's journey through the international dating experience we would have a unique story for each individual as each experience is different based on various factors, as it is for domestic dating. I think this is one of the things I enjoyed about the documentary, it didn't just show the good that happens and it didn't just show the bad, it was kind of like being on a roller coaster, you never knew what was going to happen next, something good, or a letdown. Because this is real, and we are dealing with real people and real dating situations there will be great things that happen and there will be let downs, and I think Jonathon captured that with the very small population on which he chose to focus.
I thought another interesting dynamic was that you as a viewer could put yourself in the place of some of the men or the women and ask yourself, what would you have done? How would you have felt? How would have you handled the situation? Every couple, every situation was different and watching it at times was a little like watching that scary movie when you yell at the TV, "No - don't go into the basement!!!"
I also like the fact that you did get to see how the company, A Foreign Affair operated and how we were there to help and assist the clients throughout the process. This is not an easy process and I think the company should be judge on how it deals with what the clients are going through and how it assists them to be as successful as possible. Although I think the documentary did a good job showing the care and attention that the staff gives to the clients, unfortunately it is only 90 minutes and this process spanned three years. What we didn't see is the many phone calls and conversations that we had with many of the clients talking about their situations and trying to advise them as to what steps to take next. Some of the men featured in the Documentary, in addition to those that married, have since moved forward with Fiancée Visas and only time will tell how successful they will ultimately be.
We give a ton of advice to our couples, advice that is based on almost 20 years of International Dating. You can see that advice on the website loveme.com, in the form of blogs, videos, shows and newsletters. Some of the men choose to follow some or most of that advice and others choose to ignore some or most of it. I think you see a little of that in the documentary as well. I think it also does a good job reinforcing the idea that this is not as simple as just jumping on plane and going over and falling in love, it takes a lot of work and dedication and yes, just like any dating, a little luck from the dating gods, in this case the International Dating Gods.
I must say that I thought it was very well done from an artistic point of view; I really enjoyed it and thought that they did a suburb job! They took a very complex and sometimes controversial subject and treated it very well. All in all I would give it thumbs up, it is well worth watching.

John Adams A Foreign Affair