The Hospitality Suite - Client Support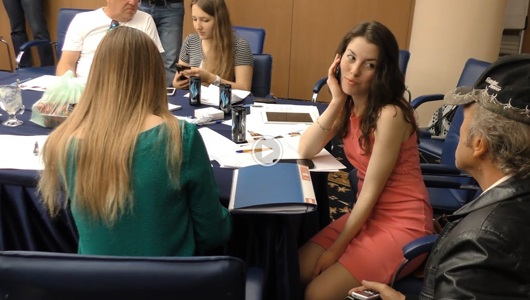 The Hospitality Suite is your most valuable asset when it comes to meeting women, arranging dates, addressing issues, and attaining assistance with date ideas, currency exchanges, shopping locations, medicine prescriptions, and anything else you need help with!
As part of our commitment to provide you the best customer service possible during your Singles Tour, we normally place the hospitality suite in your hotel for the entire duration of your stay, regardless of what tour city. The sole function of the suite is to assist and take care of any needs you may have.
Dating Services Provided:
The suite is managed by our local bilingual foreign office matchmakers whom are also experienced interpreters. The staff will spend a majority of their time contacting the women you want to meet and arranging dates for you with those women. In addition the staff will also be arranging dates for you while you are outside of the hospitality suite and out on dates or doing other activities, ensuring that your schedule stays filled with dates with the women you desire to meet.
In the hospitality suite you will be assigned a professional personal matchmaker in each city to assist you throughout the tour. The matchmaker's job is to ensure that you are meeting not only the women you want to meet, but also to assure you are not having any issues during your tour.
Our professional matchmakers have great social skills and as they get to know you better they may also help with recommendations of women they know on the service whom they feel would be a good match for you as a potential partner.
The Hospitality Suite will be available for you to use from 9 AM to 7PM every day during your tour dates. If there are any emergencies or urgent help needed, the staff is on call during after-hours and should be able to provide assistance. The hotel staffs are also available 24 hours a day to help you with any issues beyond dating.
The Hospitality Suite was pioneered by us in the travel dating industry as a vehicle to provide the most comprehensive and unparalleled customer service experience for our clients once they have arrived to their desired tour cities. You will meet professional matchmakers who truly care about you and your desire to find love and a long term relationship, so don't be surprised if you end up becoming longtime friends with the staff you meet abroad following your singles tour!
Our office staff's take immense pride in providing the best customer support possible. The matchmakers you will meet are experts in the field of international dating and strive to create the most positive experiences for our clients during their time abroad.
Our customer satisfaction spans far beyond online dating services! So what are you waiting for? Reserve a singles tour today!
Informational Videos: