VINNITSA SINGLES TOUR
Upcoming Vinnitsa Tour:
To Be Announced Click here for the reservation form with a complete list of tour dates and prices

Click here to view recent tour photos

Watch 8 Men Video

Watch these exciting videos from
6 City Ukraine Tour(s)

Live Show #80 - Recap
Host John Adams is joined in studio by tour client and Current Law Enforcement officer "Joe" and others for a review of the tour. Enjoy great, new video highlights!


Watch Show 80 Video
Visit Our FULL Ukraine Video & Media Center HERE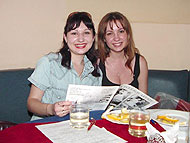 Singles Tour to Vinnitsa gives you the opportunity to meet hundreds of Ukrainian and Russian women from Vinnitsa and its region. The women from Vinnitsa region are family-oriented, loyal and considered to be very good wives.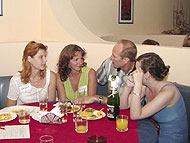 Located on the banks of the Southern Buh it impresses everybody by the organic link between town civilization and picturesque nature.

The town of Vinnitsa is over six hundred years old. Its history has known its ups and downs. Vinnitsa was overwhelmed by the Tatar hordes. When the Tatars retreated, the Poles moved into the vacuum. The hard times of the Tatar yoke were followed by the rule of Poland, Lithuania, Turkish raids and, finally, the Russian imperial rule.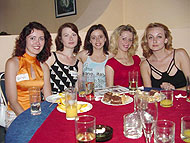 Modern Vinnitsa is an important industrial, economic and cultural centre of independent Ukraine. Besides, it's a green and beautiful city with population nearly 200.000.

Vinnitsa has much to offer for its guests, but nothing compares to the beauty of the women residing in Vinnitsa. Don't miss your chance to meet the girl of your dreams!

If you have any questions about this tour please feel free to contact any of our Singles Tour counselors.
THE "SINGLES TRIP" INCLUDES:
Coach Transport to and from hotel and all AFA events
Accommodations in Rus Hotel Kiev and in Vinnitsa Ukraine
Personal introductions to the 1,000's of available women profiled in our AFA office catalogs
Three fully catered, specific invitation, large Socials
Complimentary interpreters provided at all Socials
Breakfast daily
Three hour city Sightseeing tour
Metro Tour, hotel area and city orientation walking tour
24 hour hospitality and guidance from our American and foreign staff
In-house complimentary interpreting services located in the hospitality room
1 month Platinum Membership ($95.00 value)
Vinnitsa Singles Tour Details